Christkindl Markt coming this Holiday Season
Get in the Holiday Spirit at the Grand Rapids Christkindl Markt
November 17 - December 23, 2023
The Grand Rapids Downtown Market is bringing a cherished old-world tradition to its grounds for the 2023 holiday season.
The Christkindl Markt at the Downtown Market is inspired by the world-famous Christmas street markets that originated in Germany in the late Middle Ages and spread to other countries. The Downtown Market is transforming its outdoor space into a European-style Christmas Village lined with artisan gift and food vendors, live holiday entertainment and festive family fun.
36 huts will feature an array of vendors selling one-of-a-kind gifts and food treats.
Photo by Bryan Esler for Experience GR
One-of-a-Kind Gifts
Vendors will be offering their wares from 36 stalls under a new, glass-enclosed shed that protects them and you from the elements. You'll find a tremendous array of items for holiday decorating and gift giving, including trees, wreaths, garlands, cookie cutters, toys, clothing, soaps, lotions, books, jewelry, candles, pottery, hand-made goods and so much more.
There will also be food treats for purchase – not just chocolates and candy but also dried fruits, nuts, cookies, donuts, cheeses, meats, spices and teas, perfect for tucking into a stocking, under a tree or atop your holiday table.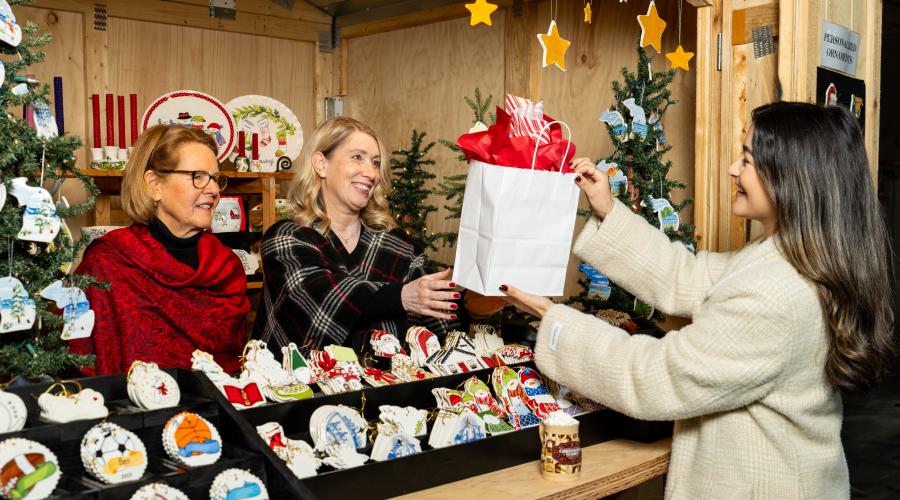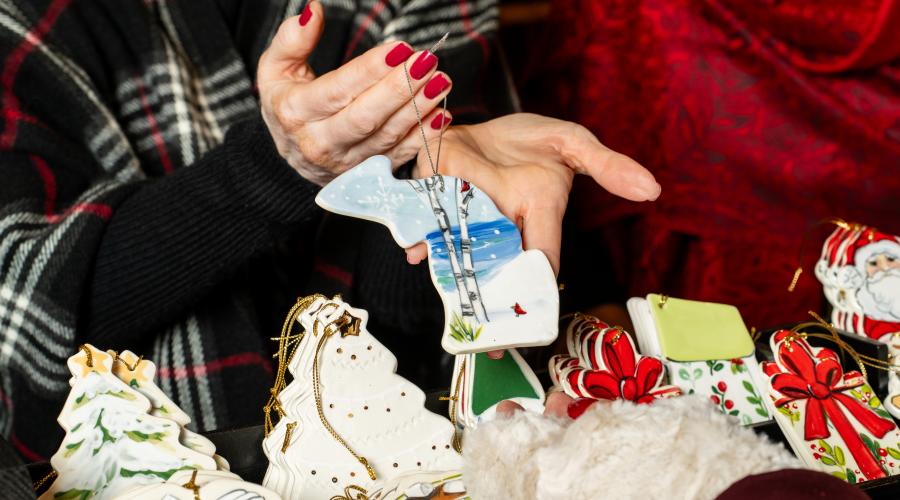 Mouthwatering Food & Drink
Come to the Christkindl Markt hungry because there will plenty of food to enjoy on site. Many European cuisines will be represented, through such authentic dishes as sausage, bratwurst, currywurst, herring, smelt, lox, salmon, raclette, goulash, frites, waffles, crepes, chimney cakes, pastries and pretzels.
Stop by the enclosed beverage hall to quench your thirst with German-style beer and hot beverages, including Glühwein ("glow wine"), a delicious mulled wine. Locally owned Brewery Vivant is creating a special beer exclusively for the Markt (that alone is worth the trip). There will be hot cider, hot cocoa and kinderpunch for the kids – and Amaretto, Schnapps, Lillet and other add-ons for adults who want some kick in their hot drinks.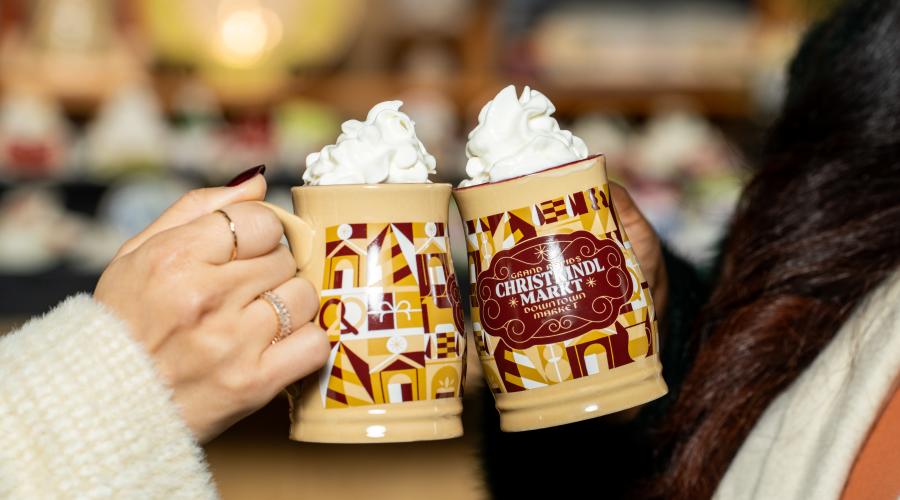 Festive Fun for All Ages
Live entertainment will be presented on stage and street performers will roam the grounds to delight visitors. You can get curling lessons and compete against others on a specially built rink. Children's activities include visits with Santa, a North Pole mailbox, s'more roasting pits and a take-home holiday arts and crafts area.
Everything will be decorated with lights and other holiday finery, creating a magical winter wonderland that transports you a world away from downtown Grand Rapids (even though you're within an easy walk or free bus ride of downtown hotels). Bring your smartphone because there will be endless photo opportunities and memories to capture.
The Christkindl Markt will be open seven days a week: Sun. 10am-7pm, Wed.-Thu. 11am-7pm, Fri. 11am-9pm and Sat. 10am-9pm. Mark your calendar to get together with family and friends in West Michigan's largest European Christmas Village – and start a new holiday tradition!